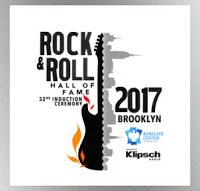 Courtesy of Rock & Roll Hall of FameThe Rock & Roll Hall of Fame's class of 2017 will be welcomed into the hallowed institution at a ceremony held on April 7 in Brooklyn, New York, and to celebrate the new inductees a special exhibit will open this Friday, March 31, at Cleveland's Rock & Roll Hall of Fame and Museum. The display will feature items from all of the 2017 inductees — Journey, Yes, Electric Light Orchestra, Pearl Jam, Joan Baez, Tupac Shakur and Nile Rodgers.
Journey's contribution to the exhibit is a parlor grand piano that keyboardist Jonathan Cain played on all of the band's 1980s tours and continued to use until 2007. Yes will be represented by a variety of collectible tour memorabilia, including a point-of-sale sign from the trek in support of the prog-rock band's Drama album. Also featured will be a gold Gibson Les Paul played by ELO frontman Jeff Lynne around 1974.
In addition, on display will be a T-shirt Pearl Jam's Eddie Vedder wore during the band's April 1994 Saturday Night Live appearance that features a letter K that the singer had drawn on it in honor of late Nirvana frontman Kurt Cobain.
The exhibition also will feature a video presentation of highlights from past induction ceremonies that will be updated to include footage from this year's event.
The 2017 Rock & Roll Hall of Fame Induction Ceremony will be held at the Barclays Center in Brooklyn. An HBO special focusing on the event will premiere Saturday, April 29, at 8 p.m. ET/PT.
Copyright © 2017, ABC Radio. All rights reserved.