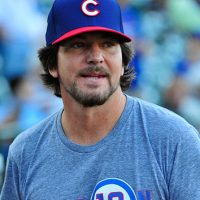 David Banks/Getty ImagesBaseball is back, and the Chicago Cubs are on a rare post-World Series win high, having won the title last season for this first time since 1908. To help celebrate the start of the new MLB season, Pearl Jam's Eddie Vedder stars in a new ad with Cubs players Kris Bryant and Anthony Rizzo.
In the ad, Bryant and Rizzo try to think of ideas to promote their fictional Bryzzo souvenir company. They eventually recruit Vedder to come up with a grungy company jingle. You can watch the ad now via the MLB's Twitter.
Vedder, a noted Cubs super fan, sang "Take Me Out to the Ball Game" at Wrigley Field during Game 5 of last year's World Series. The Cubs eventually took home the title in a dramatic Game 7 over the Cleveland Indians.
Copyright © 2017, ABC Radio. All rights reserved.
#ThisSeason on Baseball: The #Bryzzo Souvenir Company is getting bigger and better. pic.twitter.com/WzwUhB1ScB

— MLB (@MLB) March 31, 2017