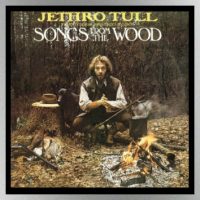 ParlophoneJethro Tull will release the latest in a series of deluxe reissues on May 19, when a five-disc version of the band's 1977 album, Songs from the Wood, hits stores.
Songs from the Wood: The 40th Anniversary Edition is a three-CD/two-DVD set that includes several mixes of the original album, previously unreleased bonus tracks, live audio and video from the British group's 1977 tour and more.
Songs from the Wood found the band adding more British-folk elements into its prog-rock sound. The album peaked at #8 on the Billboard 200, and yielded one minor hit, "The Whistler," which reached #59 on the Hot 100 chart. Songs from the Wood has sold more than 500,000 copies in the U.S. to date.
The deluxe edition's first CD features a stereo remix created by renowned prog-rock producer Steven Wilson, plus several tracks recorded on or around the time of the original album sessions, including the previously unheard "Old Aces Die Hard" and "Working John, Working Joe."
The other two CDs in the package contain previously unreleased live performances from concerts Jethro Tull played in Boston in December 1977 and in Landover, Maryland, in November 1977.
The DVDs feature multiple high-res mixes of Songs from the Wood, as well as unseen video footage of the aforementioned Landover show.
Also packaged with the collection is a 96-page booklet that boasts extensive notes about the making of Songs from the Wood, frontman Ian Anderson's track-by-track annotated details about the album and associated tracks, an interview with studio engineer Trevor White, a recording and tour chronology spanning from April 1976 to December 1977 and more.
Check out the full track list of Songs from the Wood: The 40th Anniversary Edition and more information at JethroTull.com.
Copyright © 2017, ABC Radio. All rights reserved.