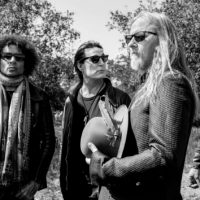 Credit: Pamela LittkyAlice in Chains has debuted the fourth installment of Black Antenna, the sci-fi companion film to the grunge band's Grammy-nominated album, Rainier Fog.
The film follows Alpha and Beta, two aliens disguised as humans trying to find a way to contact their home world. They're pursued by a U.S. immigration officer named Nil, who also has alien origins.
In this new chapter, which is accompanied by the Rainier Fog song "Fly," the relationship between Alpha and Beta starts to strain, as the latter starts to question the former's motivations and reasons for secrecy. You can watch it now on YouTube.
Previous Black Antenna episodes include "Red Giant," "The One You Know," and "Rainier Fog." The film will eventually consist of 10 parts.
Alice in Chains will launch a North American tour April 10 in Vancouver. They'll then team up with Korn for a co-headlining tour starting in July.
Copyright © 2019, ABC Radio. All rights reserved.